Colorectal cancer (CRC) is the third most diagnosed cancer, affecting about 4% of the population. It is the fourth leading cause of cancer-related deaths worldwide.
At Causenta, a Scottsdale Cancer Center, we work with patients every day who bravely face these statistics because, despite the grim numbers, there is always hope. My decades of research and work fighting disease have taught me to always keep hope alive!
There are simple changes that patients can make to drastically improve their outcome, like prioritizing healthy nutrition with the right foods.
For your next colon cancer-fighting meal consider grilled salmon prepped with garlic infused olive oil and a side of lightly steamed broccoli.
Why Nutrition Matters When Dealing With Cancer
Think of your body like a building, where a strong foundation makes the structure built to last. The foundation of health in your body is built upon micronutrients. The key categories of micronutrients are:
Vitamins
Minerals
Essential Amino Acids
Essential Fatty Acids
If you are deficient in any micronutrient, then your foundation is weakened. So, the most critical and simple place to start is with nutrition.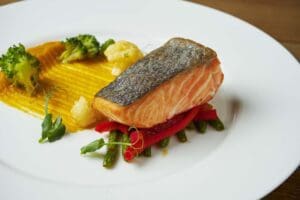 Foods to Fight Cancer
Inspired by the eating habits of those who live by the Mediterranean Sea, research has shown that a Mediterranean diet, with staples such as fish and olive oil, reduces the risk of chronic diseases such as colon cancer.
Olive oil contains compounds, such as monounsaturated free fatty acids, squalene, phytosterols, and phenols, that are known cancer fighters. Consuming olive oil can have a positive impact on free radicals, inflammation, gut microbiota, and reducing cancer growth.
Fish is an excellent source of omega-3 fatty acids and it is widely recommended for heart health. Studies also show that the anti-inflammatory properties of fish may decrease CRC risk by up to 12%.
Broccoli is high in fiber, vitamin C, vitamin K, iron, and potassium. What makes broccoli extra special is isothiocyanates – particularly, sulforaphane (SFN). SFN has been shown to have anti-inflammatory and anticancer properties, targeting colon cancer.